"Miss Flinders" - A significant part of Aviation Heritage of Tasmania
"Miss Flinders" is a Desoutter Mk. II Monoplane, with the Australian Registration VH-UEE.
It arrived in Tasmania in March 1932, and began flying passengers from Western Junction to Flinders Island.
The timeline below summarises the history of "Miss Flinders". (Special thanks to both Geoff Goodall  and Fred Niven for their detailed histories of the plane).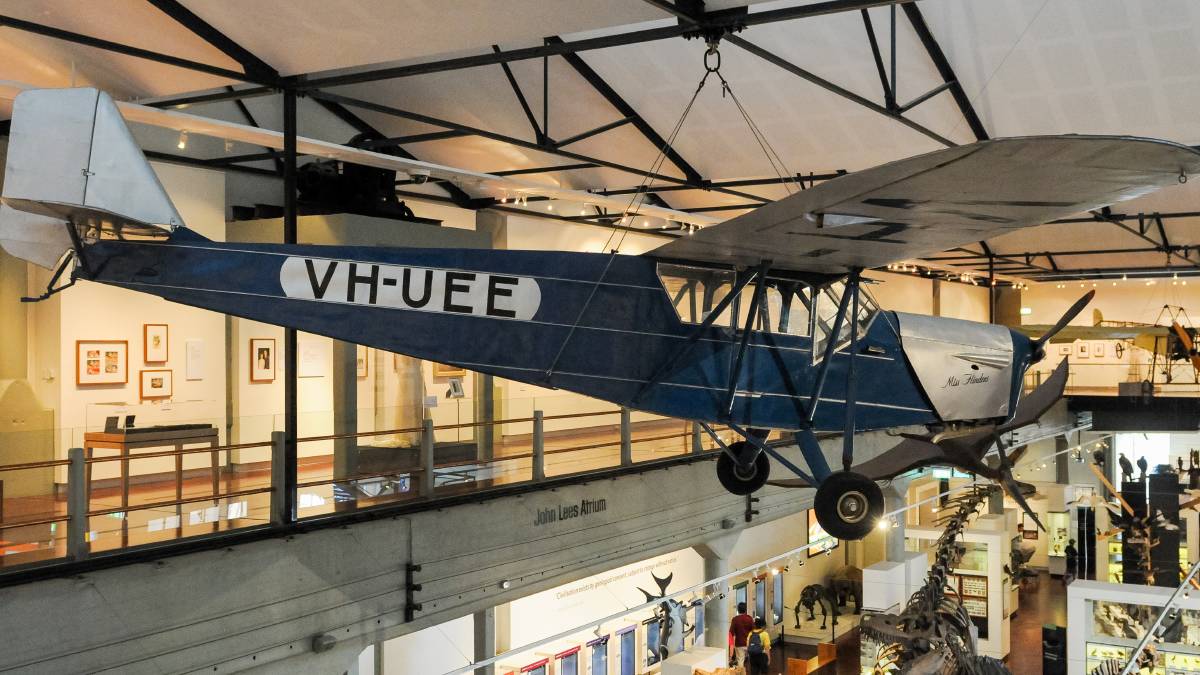 The TAHS became the custodians of Miss Flinders in March 2020, when it was removed from display at the QVMAG.
Historical Aircraft curators carefully dismantled the plane and prepared it for storage. 
In February 2021 it was reassembled and displayed in the Launceston Airport Terminal, as part of the 90th Anniversary of the official opening of Western Junction Aerodrome on 28 Feb 1931.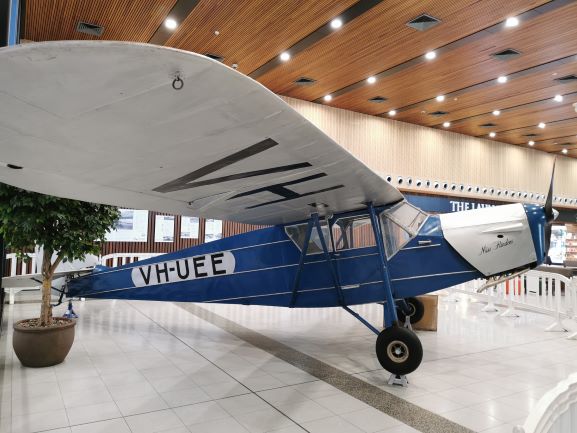 Miss Flinders Timeline
| Date | Owner (Location) | Details | Flying Hours |
| --- | --- | --- | --- |
| 1930, Jul 18 | De Havilland Aircraft Co (Stag Lane Aerodrome, England) | Gipsy Three Motor, serial number 3046 produced | |
| 1930, Aug 30 | Desoutter Aircraft Co (Croydon Aerodrome, England) | Aircraft built at Croydon Aerodrome London by the Desoutter Aircraft Co Ltd and powered by a de Havilland Gipsy Mk III engine, (serial number 3046) and first flight undertaken. | |
| 1930, Sep 01 | Iona National Air Taxis and Flying School (Ireland) | Airworthiness certificate issued | |
| 1930, Sep 05 | Iona National Air Taxis and Flying School (Ireland) | Flown to Ireland. | |
| | | | |
| 1930,Oct 20 | Iona National Air Taxis and Flying School (Ireland) | Registered as El-AAD, the fourth plane (and first commercial plane) to be registered in Ireland | |
| 1931, Apr 21 | Iona National Air Taxis and Flying School (Ireland) | Departs Ireland for England and subsequently sold | |
| 1931, Jul 29 | Robert Barker (United Kingdom) | Registered as G-ABOM | |
| 1931, Nov 11 | Hart Air Services (Melbourne) | Purchased the plane, to be flown back to Australia by Harold Jeffrey and Harry Jenkins | 68 Hours |
| 1931, Dec 27 to 1932, Feb 10 | Hart Air Services (Melbourne) | Fly the plane to Australia in stages by Jeffrey and Jenkins via India, arrived in Darwin after 44 days, 147 hours flying time | 225 Hours |
| 1932, Mar 11 | Laurie Johnson (Tasmania) | Registered as VH-UEE, "Miss Flinders" to carry three people | |
| 1932, Mar 18 | Laurie Johnson (Tasmania) | First regular passenger service to Flinders Island | |
| 1932, Mar 21 | Laurie Johnson (Tasmania) | First aero medical evacuation from Flinders Island to Western Junction, piloted by Laurie Johnson | |
| 1932, Oct 01 | Tasmanian Aerial Services (Tasmania) | Laurie Johnson and the Holyman Brothers amalgamate | |
| 1933,Feb 27 | Tasmanian Aerial Services (Tasmania) | The first aero medical evacuation from King Island to Essendon, piloted by Laurie Johnson | |
| 1934, Jul 18 | Holyman's Airways (Tasmania) | Tasmanian Aerial Services renamed as Holyman's Airways and registration transferred to new company | |
| 1935, Jun 11 | Holyman's Airways (Tasmania) | Flown from Tasmania to Mascot , Engine No 3046 | 1,030 Hours |
| 1935, Jul 23 | de Havilland Aircraft Co. Mascot (NSW) | Sold in part payment for a new aircraft (DH 86) purchased by Holyman Airways | |
| 1935, Oct 18 | John Larkin (Sydney) | Private and charter activities | 1,054 Hours |
| 1936, Aug 17 | George P. Hoskins (Sydney) | Private and charter activities | 1,098 Hours |
| 1937, Jan 21 | George P. Hoskins (Sydney) | Accident at Mascot, requiring rebuild | 1,320 Hours |
| 1937, Dec 16 | George P. Hoskins (Sydney) | Plane rebuilding commenced and worked on at different times | |
| 1938, Nov 15 | Jack R. Pater (Warragul) | Plane flown from Mascot to Essendon, Private use | |
| 1939, Apr 24 | Charles D. Pratt (Essendon) | Pratt Flying school at Coode Island (Victoria) | 1,429 Hours |
| 1941, Feb 09 | Charles D. Pratt (Essendon) | Placed in storage | 1,664 Hours |
| 1941- 1946 | Charles D. Pratt (Melbourne) | During WWII, and the curtailment of civil flying, the aircraft was dismantled and stored at Essendon | |
| 1946, Sep 28 | Wollongong and South Coast Aviation Services (NSW) | Charter flying and instruction | |
| 1947, Feb 28 | Wollongong and South Coast Aviation Services (NSW) | Aircraft reassembled and repaired. by Alan Brierley Smith. Gypsy Major Engine (no 167) installed | |
| 1947, Jul 08 | Wollongong and South Coast Aviation Services (NSW) | Gypsy Major Engine (no 398) installed | 1,760 Hours |
| 1948, Aug 31 | Wollongong and South Coast Aviation Services (NSW) | Last entry in Logbook no 2, (Logbook 3 missing) | 2,106 Hours |
| 1948, Oct 28 | Wollongong and South Coast Aviation Services (NSW) | Damaged in wind storm when blown against a DC3 and put into storage | |
| 1949, Dec 12 | South Coast Airways (Wollongong) | Company renamed. | |
| 1951, Aug 06 | South Coast Airways (Wollongong) | Removed from Department of Civil Aviation register | |
| 1952, Jan 25 | South Coast Airways (Wollongong) | Restored and Registration changed to VH-BQE | |
| 1953, Jan 05 | Walter. E. James (Wollongong) | | |
| 1953, Jul 14 | Airmech (NSW) | Illawarra Flying School, Bankstown | |
| 1954, May 14 | Richard C. T. Burt (Baradine NSW) | | |
| 1956, May 25 | Australian Aircraft Sales (Sydney) | | |
| 1957, Jan 17 | Rain Air Taxis (Bourke NSW) | Charter flying, named "Jeerbin" | |
| 1958, Jan 16 | Rain Air Taxis (Bourke NSW) | Airworthiness certificate lapsed, placed in storage as it has no commercial value. (Rain Air Taxis ceased operation in 1961) | |
| 1961, Sep 05 | | Struck off Civil Aviation Plane Register | |
| 1962 | Department of Civil Aviation | Discussions commenced between Dept of Civil Aviation and the Launceston Branch of the Air Force Association to acquire and display Miss Flinders at the new Launceston Terminal | |
| 1963, August | Department of Civil Aviation | Offer to donate Miss Flinders to Airforce Association of Tasmania | |
| 1965, Sep | Department of Civil Aviation | The Commonwealth Government purchase the plane, to allow the Airforce Association of Tasmania to restore and display the plane in the new Launceston Terminal | |
| 1966, Jun 23 | Department of Civil Aviation | Dismantled plane is flown from Melbourne to Launceston in ANSETT-ANA Carvair VH-INJ | |
| 1966, Oct 29 | Department of Civil Aviation | Launceston Terminal opened with Miss Flinders on display | |
| 1997 | Dept of Transport (Launceston) | Removed from display at Launceston Airport and transferred to QVMAG storage | |
| 2006 | Dept of Transport (Launceston) | On display at QVMAG | |
| 2010, Apr | Dept of Transport (Launceston) | QVMAG begin restoration of Miss Flinders | |
| 2011, May | Dept of Transport (Launceston) | On display at QVMAG Inveresk | |
| 2020. Mar 10 | Dept of Transport (Launceston) | Removed from display at QVMAG | |
| 2020, Mar 23 | TAHS (Tasmania) | Dismantled plane in storage at Western Junction until a new display home can be found | |
| 2021, Feb 22 | TAHS (Tasmania) | Remove from storage, relocated and re-assembly commenced. | |
| 2021, Feb 28 | TAHS (Tasmania) | The display at Launceston Airport Departure Hall is officially opened | |